My seaside philosophy is that life — and portrait sessions — can be a lot like a ride in the Jeep my husband lovingly restored. It can be tough to get started, even short jaunts may be bumpy, and there will be times when you can't even hear the music. But the sunshine and breezes make the journey worthwhile.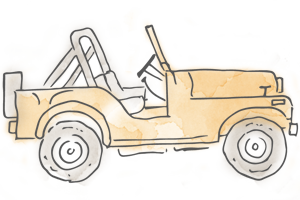 My goal is to capture the here and now for you and create some art you'll be happy to display and share. I started this business as a play-at-home mom, so child psychology and yoga have been part of my core curriculum. (My accounting degree and marketing experience have been useful, too.)
Your portrait session can take place in a variety of settings — your backyard, a park, ambling city sidewalks or along the edge of the Atlantic. We'll allow about an hour, which includes time for a clothing change and plenty of time for your child to forget about the camera (or warm up to it). Portrait sessions start at $395 for up to five people; extended family gatherings and longer lifestyle sessions are a bit more.
I have an Isle of Palms business license and frequently shoot there. Unfortunately, Sullivans Island prohibits commercial activity, including professional photography on its beaches. We can discuss other area locations, too, so just ask!
Contact me to learn more specifics about my outdoor studio, what to wear and what to bring to ensure a fun session with lots of wonderful photos you'll love.