As Charleston temperatures dip into the 60s, September must be here. Summer vacation is over, the kids are back to school, and warm weather is giving way to warm memories of lots of great beach days. My summer clients ran the gamut from families of four to an impressive beach week with 26 people. Sometimes people ask me about clothing choices, and others have a vision for a clean look that is easy to pull together. Truth be told, I love color. That shouldn't be much of a surprise if you peruse my photos, but the best beach photography, I love the way color and texture work together to put subjects more at ease, enabling them to wear styles and shades that complement their personalities and their surroundings.
Here are some of my colorful summer favorites. (And stay tuned for another post soon with more monochrome looks, which I think look best for clients who prefer black and white images.)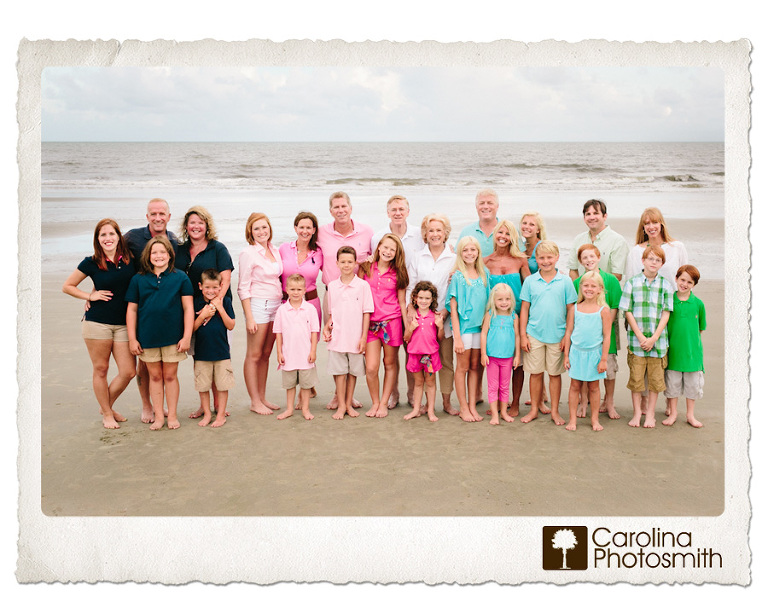 Imagine if all 26 family members had worn white instead. This is so much more fun! Don't get me wrong — I know why people choose white tops: 1) Everyone in the family probably already has one in their closet. 2) White is quintessential summer: crisp and breezy. 3) A uniform look keeps the focus on the faces. The latter may be true, but in a wide shot with lots of people, the actual faces are such a small percentage of the frame that it's worth using color to kick things up a notch.
One color per family is still pretty simple to execute, and I like how each person sports a style (collar, strapless, tank, flowy, sparkly) that matches their personality.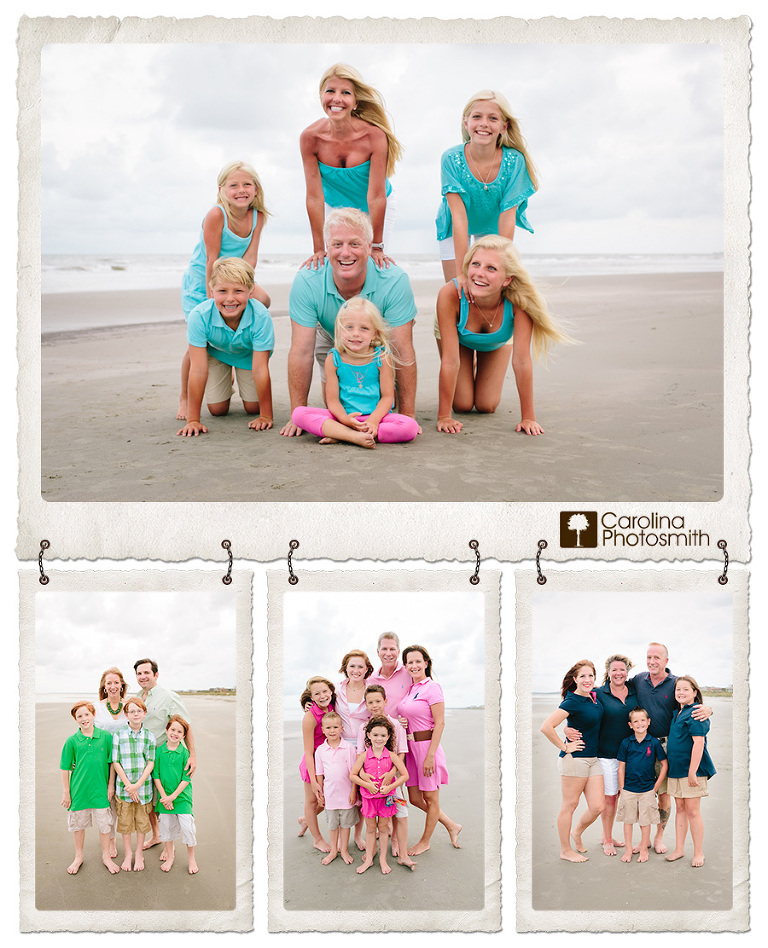 A note about solid navy — this color varies a lot among brands and dialots, especially if it's navy from your closet that has been washed a lot. This works well because it's all the same tone.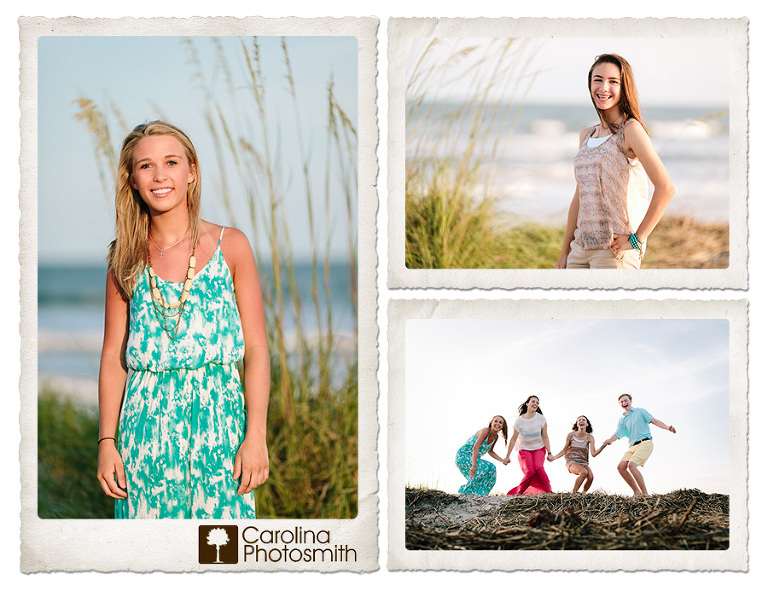 Scared of sporting a pattern? Don't be! Obviously you don't want to go crazy and have everyone wear different patterns, but this looks so natural and unfussy, and a little pattern looks more genuine, giving a glimpse into each subject. Everyone will be more at ease in clothing they like and feel comfortable in.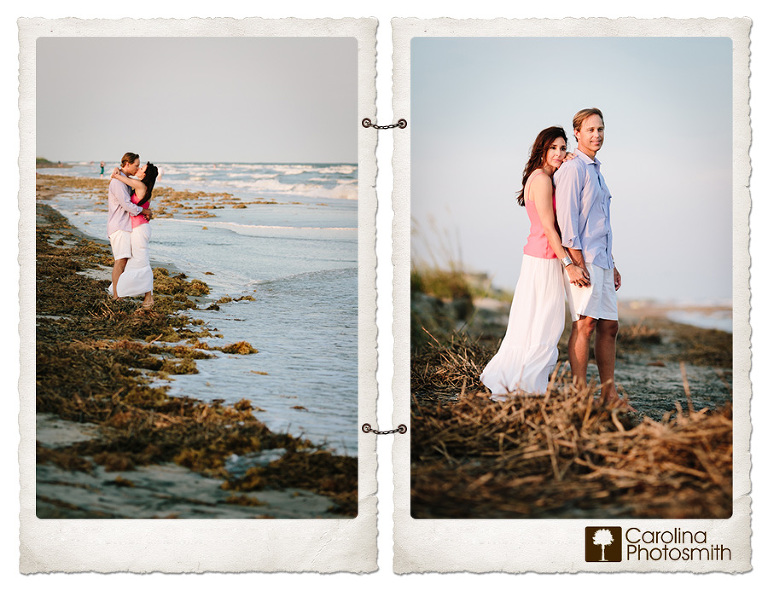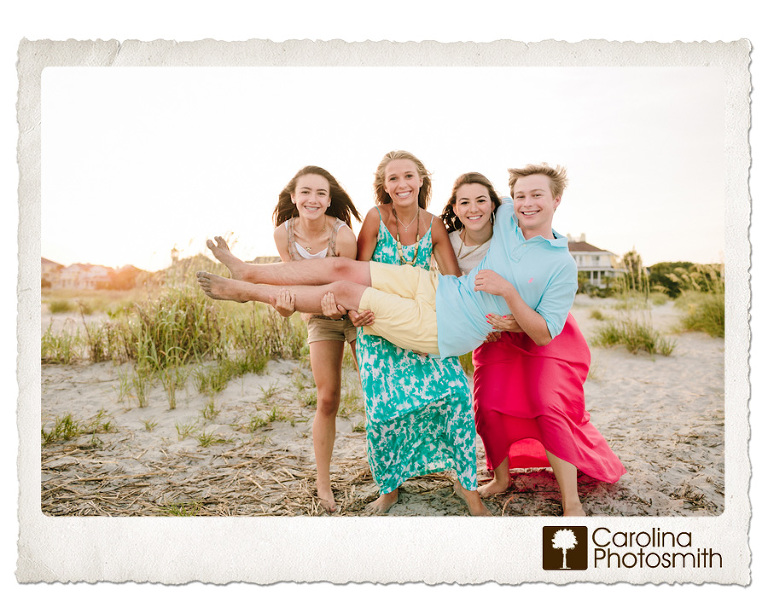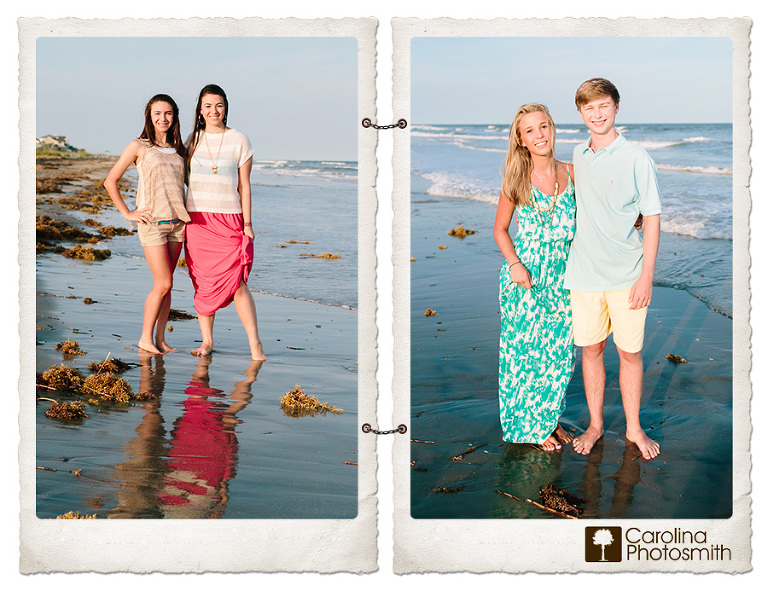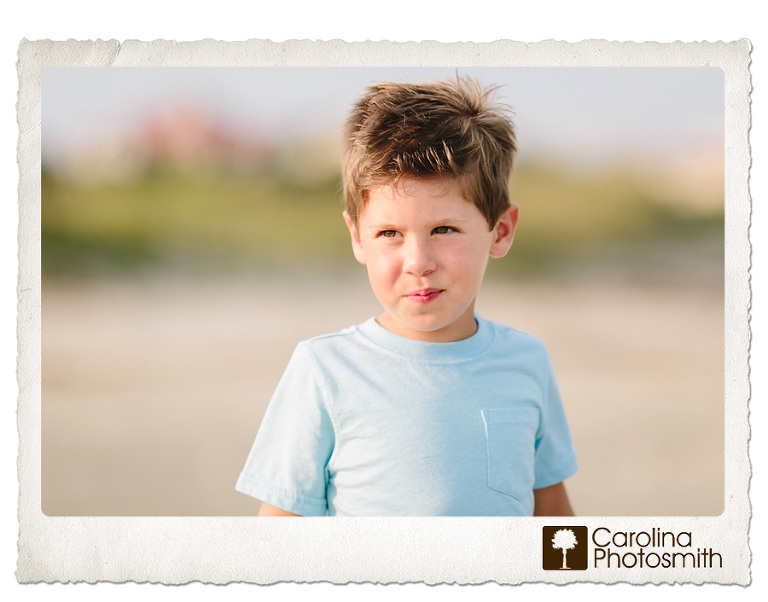 My family did the khaki and white thing for several years, but it's fun trying to make it more interesting. With nine girls, my mom likes to start by shopping for them, and then the rest of us pull a color or two based on what the kids are wearing. These knit dresses in our 2011 photos came from Garnet Hill, and the boys' madras shirts are from Kelly's Kids. I don't condone matching, but with only a few boys, we loved how their multicolor shirts made the photos pop.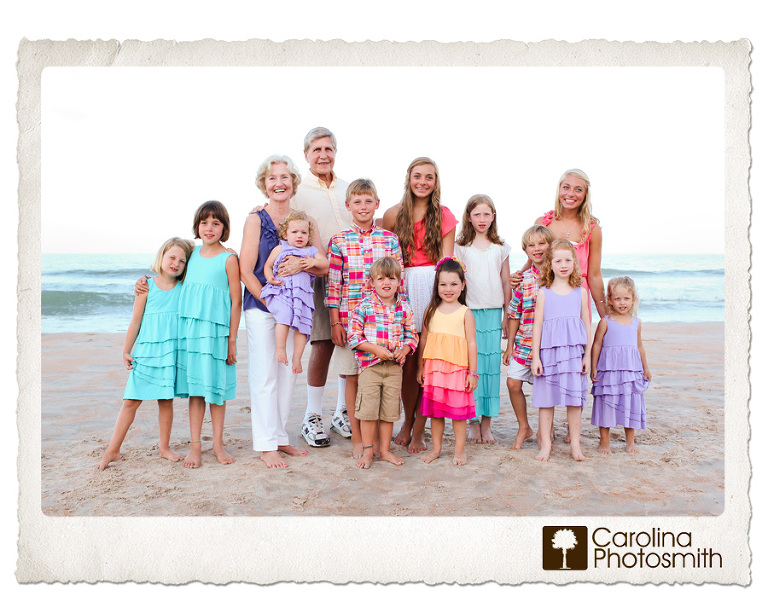 This family also took a fun idea a step further. My parents have a dozen grandchildren, and after seeing numbered shirts in a pricey catalog, my mom decided we should make our own one year. It's been one of our fave photos! (Too bad I can't get my hands on it for this post.) But this crew even color-coded each of the four families. Bonus points!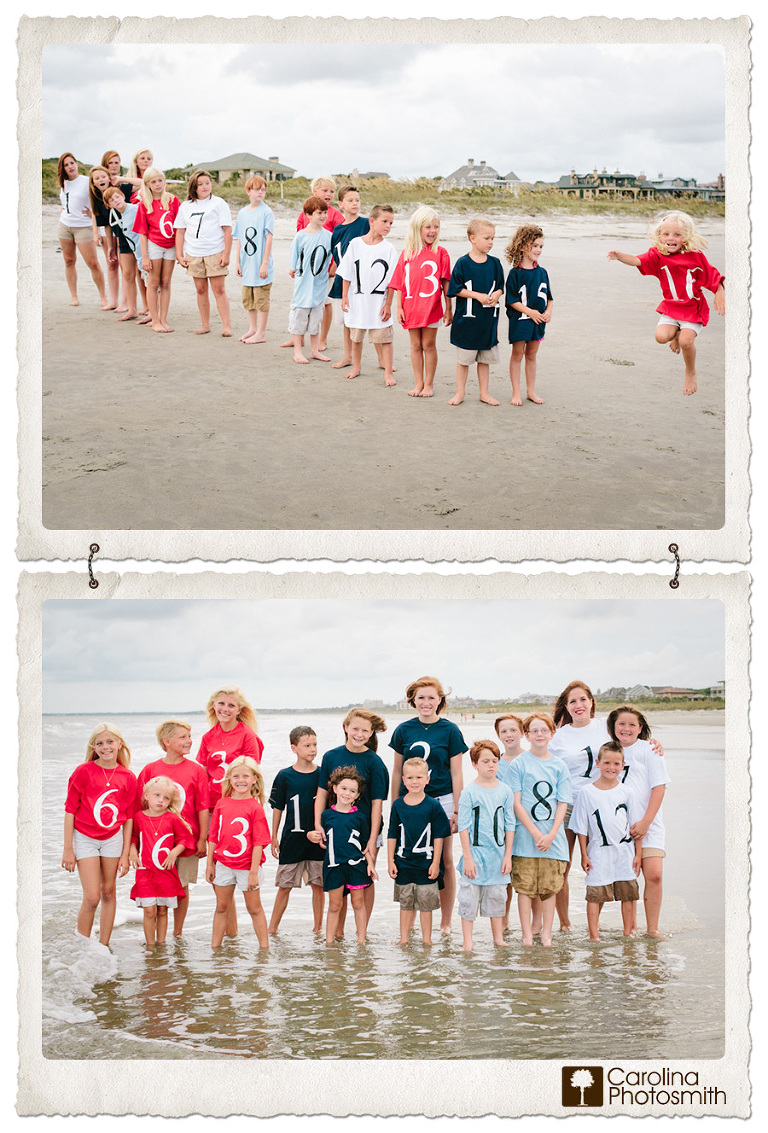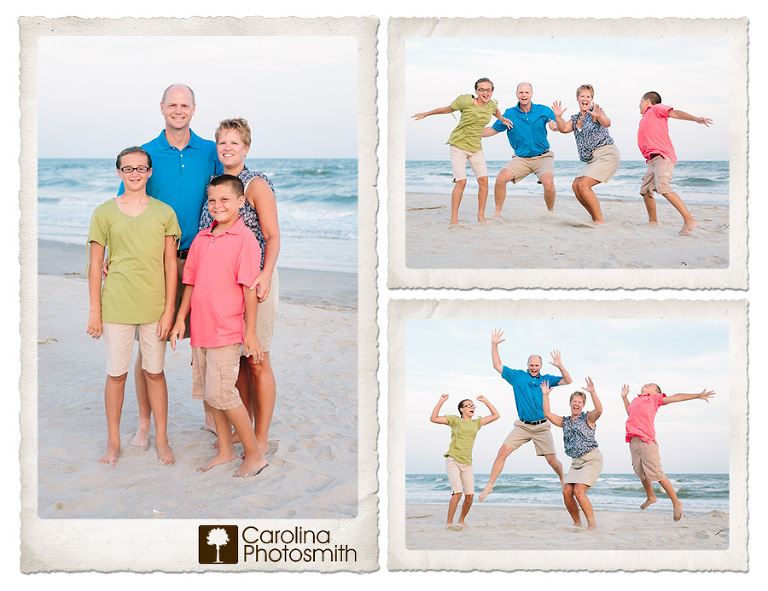 And here is my clan in Florida a couple of months ago. Other than my son being in tears from his swimmer's ear, we did pretty well. I could have tightened up the group a bit, but it's a keeper – not half bad for a self-timer shot! Again, mom started with the young girls' dresses — this year, she scooped three patterns of pillowcase dresses from Hanna Andersson during their pre-season sale. Voila! Our color palette was grey, orange and hot pink. We are not even Clemson people, but I love orange in photos. (And my oldest brother, a diehard Bulldog, was grateful he could wear slate.) There's a little of everything here — patterns, color pops, plaid, seersucker, various necklines. But it is us, and we like it!

Finally, a wonderful comparison. This group wore white shirts for the extended family photo, then made a quick change into color for their family portraits. Pretty convincing, huh?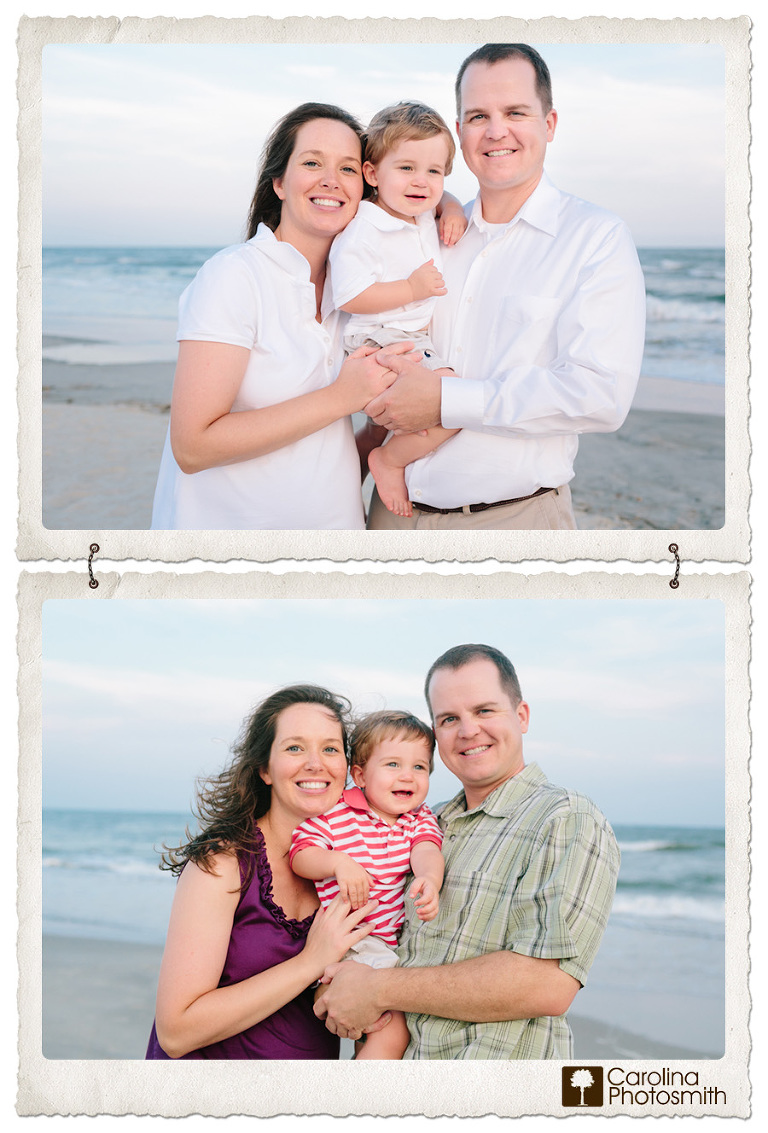 Embrace color, y'all! It's fun and flattering. I will follow up soon with another beach photography post. I have plenty of shots where families did wear white and they look lovely — especially in black and white. Cheers! Contact Jen to book your family photo session. It's a great time of year for cooler temps, so let's get some great photos for your Christmas cards and holiday gifts!