When I started mapping out a few summer days in New York City with my teenaged daughter, I knew we wanted to cover some ground and make the most of our time there. This trip included a couple of days with my long-ago Boston roommate and her son, who were traveling from Idaho. I corresponded with a friend in the East Village, who laughingly replied that my itinerary for a Most Amazing NYC Day was ambitious. Imagine her surprise (and ours!) when we packed all that and more into twelve adventuresome hours!
Cidney and I flew up Saturday morning and spent the weekend roaming Central Park, eating lots of yumminess, exploring some architectural gems and soaking up Sunday on Broadway. Her birthday present was tickets to the two-part Harry Potter play, so we spent most of our Sunday at the Lyric Theater. Our friends arrived bleary-eyed Sunday morning after a cross-country flight, so the itinerary for this ambitious day was slated for Monday.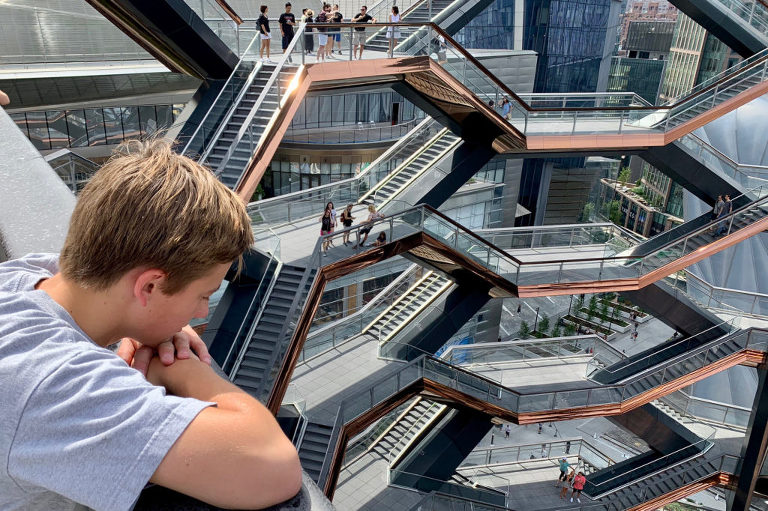 We chose Midtown East as home base. Cidney and I spent four nights at the historic Renwick and really enjoyed our stay! Melinda and Luke were eight blocks away at Hotel 48LEX. We started our adventure by meeting at Grand Central and taking the #7 to 34th Street / Hudson Yards. First task: CLIMB THE VESSEL. The distinctive copper beehive is the centerpiece of a new development that includes chic residences, dining and shopping on the Hudson River. The Vessel is an interactive art installation comprised of 154 flights of stairs that rewarded us with great views and breezes. Skip the day-of ticket line and reserve free timed tickets two weeks before your visit.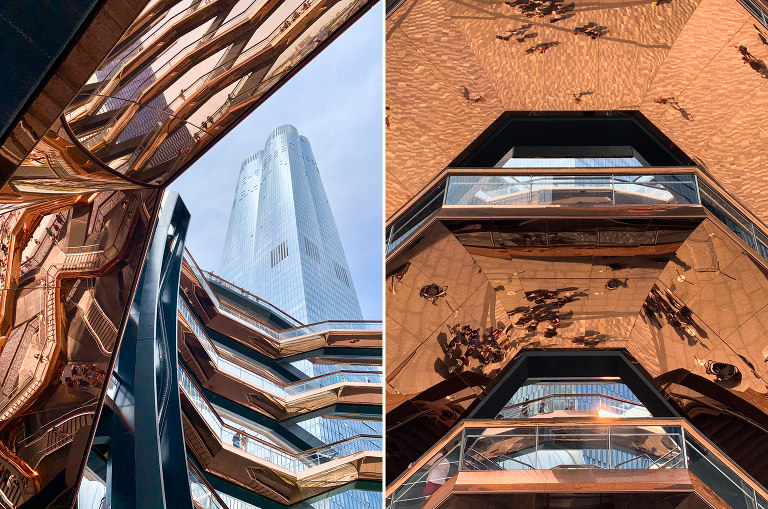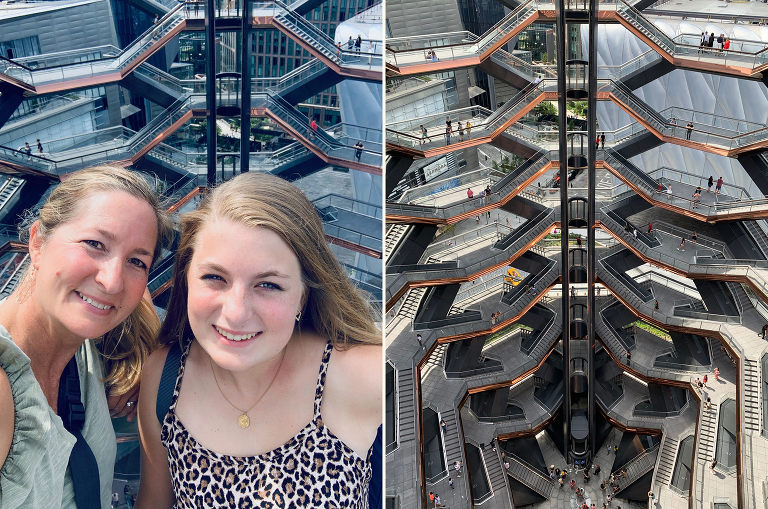 After warming up the legs, we WALKED THE HIGH LINE, an elevated park built on a former rail track that was magically repurposed after almost being demolished in the 1990's. The vibrant walkway was busy even on a Monday, but it was a fun amble chock full of flowers, art, funky architecture, families, school groups and locals seeking Vitamin D on their lunch breaks.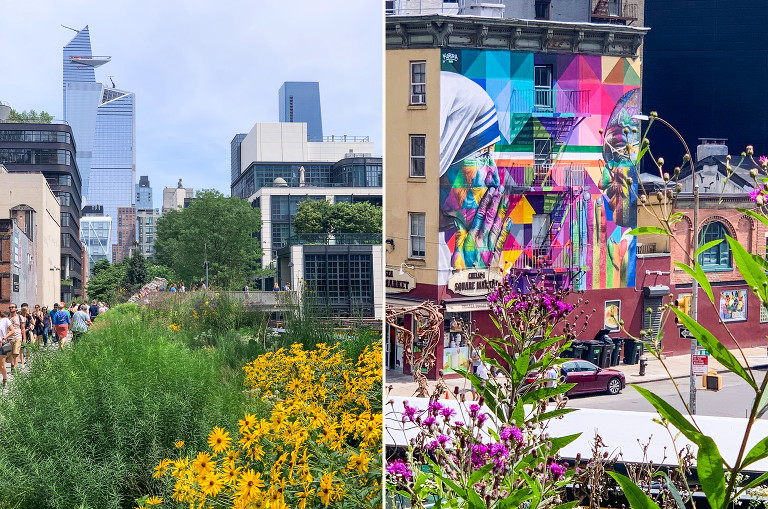 Speaking of lunch, we stopped into CHELSEA MARKET and perused lots of eateries before choosing a Mediterranean spot (Miznon) for lunch. Housed in the former Nabisco building, we knew the home of Oreos would be a great place for a bite and some shopping. After stuffing ourselves with pitas, we couldn't resist a sugar fix at L'Arte del Gelato. (A most amazing NYC day always includes treats!)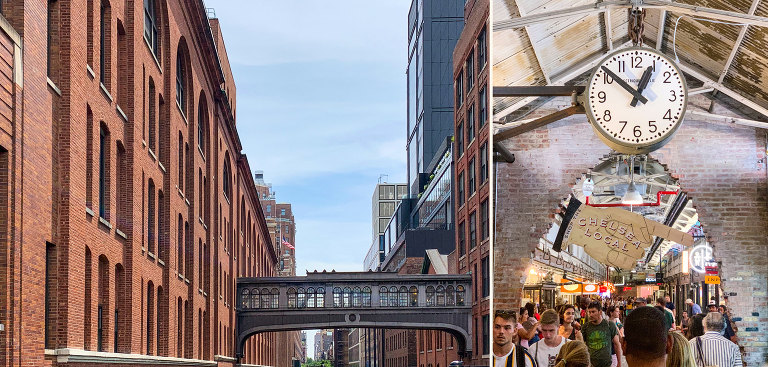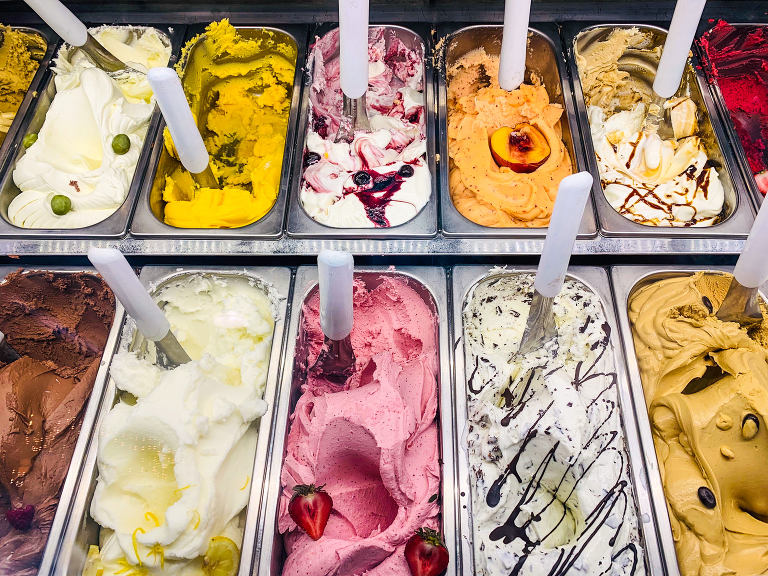 Fully refueled, we said Why Not? when the kids wanted to RENT BIKES. Our next planned stop was a couple of miles south, so we skipped the subway and opted for the riverfront bike path across the street. Score! I'd never rented from CitiBike before, but it was a snap. For $12 each, we could access bikes for 24 hours from various CitiBike locations in 30-minute increments. We pedaled along the Hudson River Greenway for a few scenic miles and docked the bikes about 25 minutes later. (There's also an app-only option for a single $3 ride. And make note: this wouldn't have worked if my 12-year-old were with us; riders must be 16.)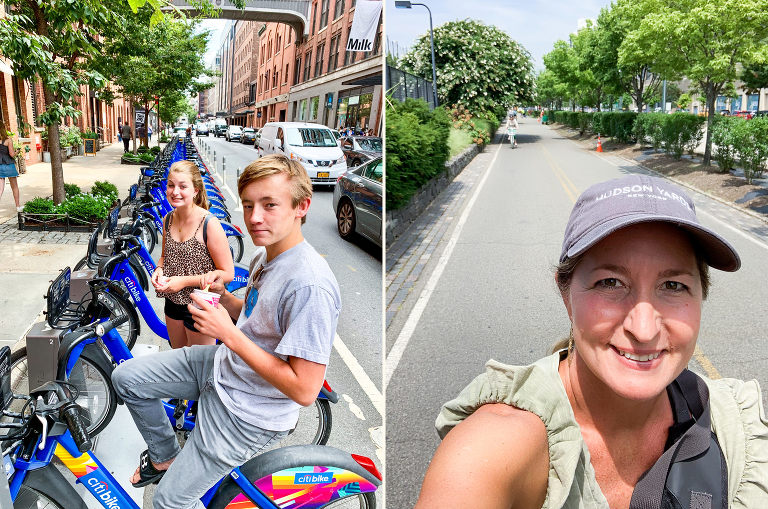 Since we saw One World Trade Center looming in the sky behind us (missed our destination), we decided to zigzag through the Financial District, where we lined up for a photo op with the bronze CHARGING BULL, created after the 1987 market crash. We also made a pit stop for some games and passed Trinity Church, where Alexander Hamilton is buried. (We would have missed all this fun if we hadn't been open to spontaneity!)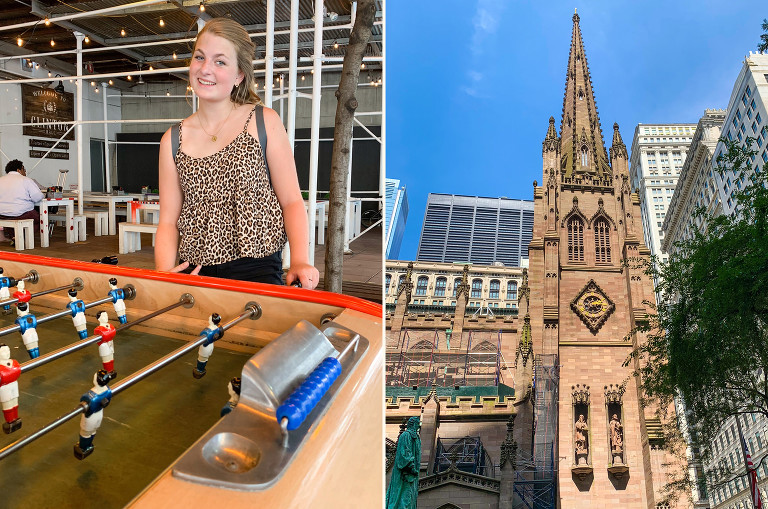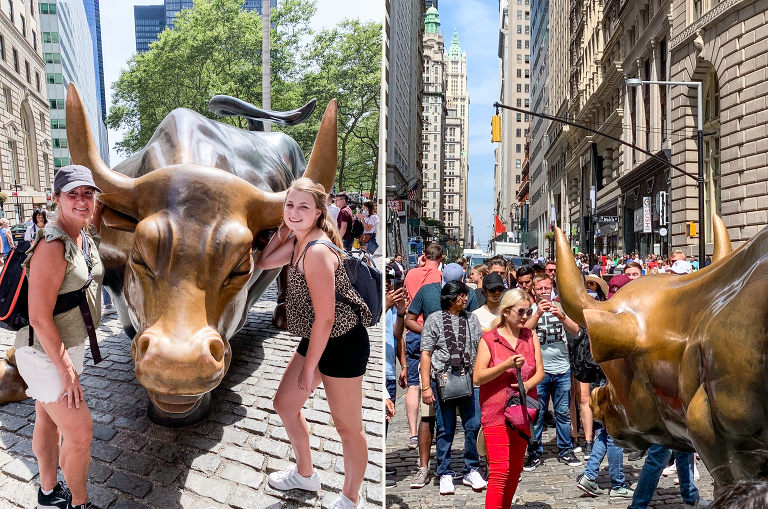 Onward to OGLE THE OCULUS, the controversial architecture that took 12 years and $4 billion to build. It houses the transportation hub that was destroyed on 9/11 as well as another upscale mall (we breezed through the Hudson Yards retail area earlier). On the clear day we visited, we were awestruck by the sun bouncing around inside the luminous structure. Apparently the skylight across the top center is retractable and was designed to symbolize the light that continues to shine after the tragic acts of terrorism leveled the Trade Center towers in 2001.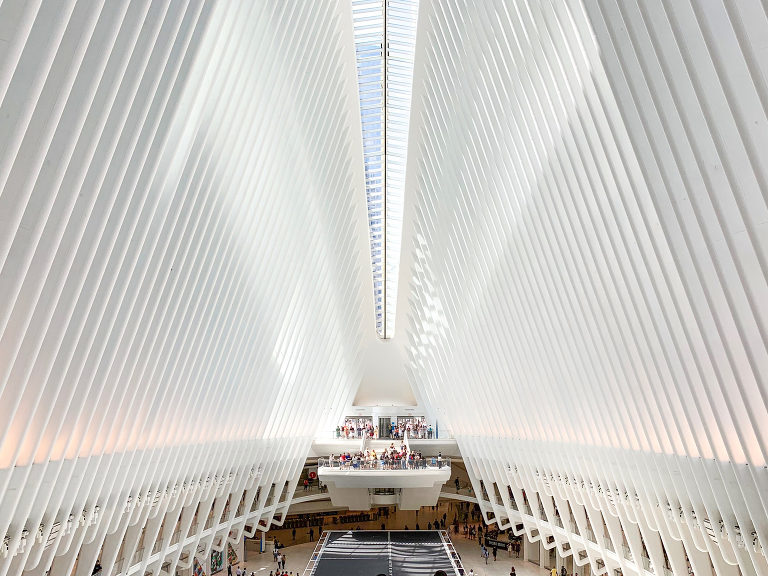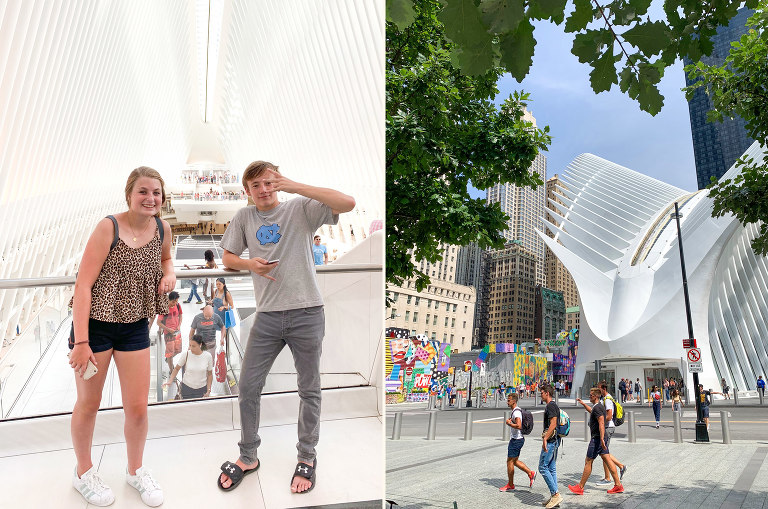 We exited the opposite side of the train station and spent a few quiet moments at the 9/11 MEMORIAL. The footprints of the towers didn't seem as large as I expected, but watching the waterfalls descend into the shadows thirty feet below was humbling. I skimmed my fingers over names of some victims and watched as people touched roses tucked into some of the names of the nearly 3000 people memorialized here.
Our initial plan was to walk across BROOKLYN BRIDGE, but we were eager to pick up more bikes. The first Citibike kiosk didn't recognize the card I'd swiped earlier, so I called the support number and was surprised when someone answered quickly. He could tell that the card reader on the kiosk was not working properly, so he directed us to a nearby kiosk to try again. Something was still amiss, but we caught some acrobats flipping in BATTERY PARK, and the kids-at-heart hopped aboard the SEAGLASS CAROUSEL. The third kiosk was the charm, and we were back in business, pedaling along the waterfront and looking for signs to access the bike path to Brooklyn.
Quest for the Brooklyn Bridge
Ignorance was bliss, at least for a bit. We had no idea we'd end up in the middle of six lanes of car traffic, but that's where the bike path was! The steady climb up to the bridge span was crammed with people, many of whom spilled into the bike lanes and had no concept of traffic flow. By the time we passed the first photo op location, the crowds minimized considerably until we started descending into Brooklyn. I can't imagine if we'd tried this on a weekend, but the bike lane still had more breathing room than the pedestrian lane since few walkers traversed the whole bridge.
We followed the path straight into Brooklyn then found a Citibike station to dock our bikes. Next we walked a mile back to DUMBO to the TIME OUT MARKET. (Incidentally, as a gal who likes to know what acronyms stand for, I read that this neck of the woods was Down Under the Manhattan Bridge Overpass.)
We were a bit tired and sweaty, but we headed to the 5th floor only to find no empty tables on the roof deck with the great views. We moved inside to the cozy seats and delicious AC, where Mel and I celebrated with local beers and the kids pondered their dinner options.
Time Out Markets launched in Lisbon and 2014, and new outposts opened in Miami, New York and Boston earlier this summer. (Chicago, Montreal and Dubai are in the works to open by 2020.) My friend Lynne, an East Village resident, recommended we check this place out for some of the city's best food options under one roof. The views of Manhattan at dusk are an added bonus! We ordered dinner from three of the twenty-one restaurants and chowed happily.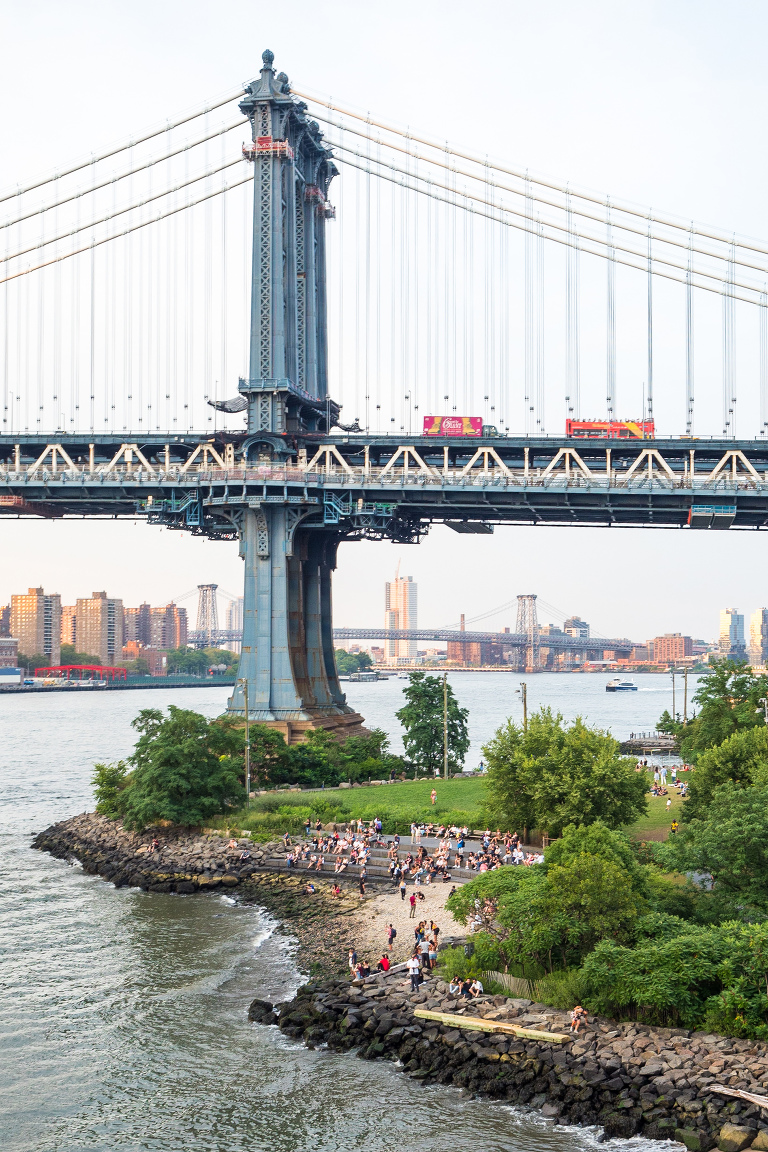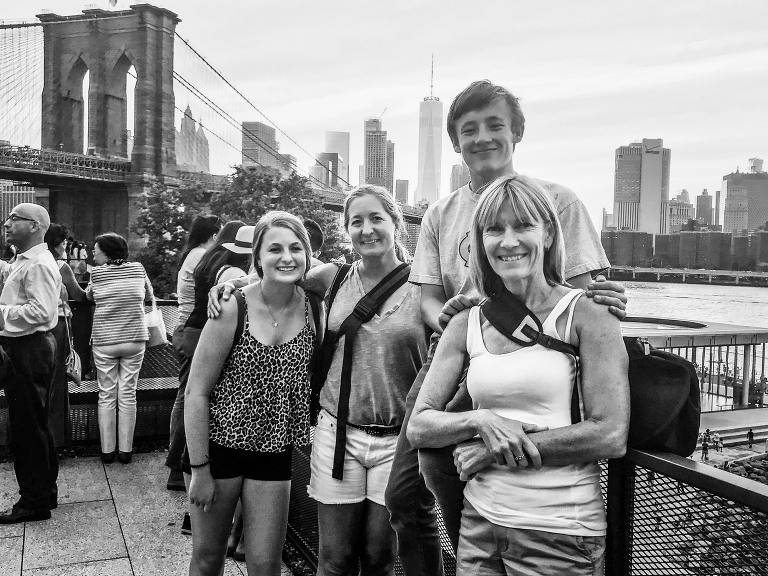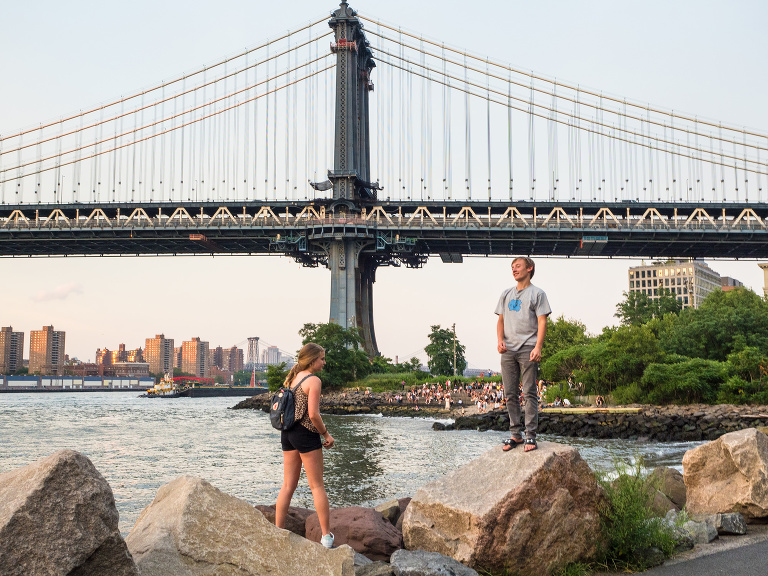 Afterward, we ambled along the waterfront in EMPIRE FULTON FERRY park and took the five-minute MTA ferry back across the river to Wall Street. It was a shame our ride was so speedy because the sky was painted in cotton candy stripes, and it would have been fun to keep cruising. Still, this tip from Lynne was a great recommendation! Fare is just $2.75, like the subway, but our unlimited Metro card did not include the ferry. A better option would be to take a longer ride up the river and soak up the views beneath the Brooklyn, Manhattan and East River bridges.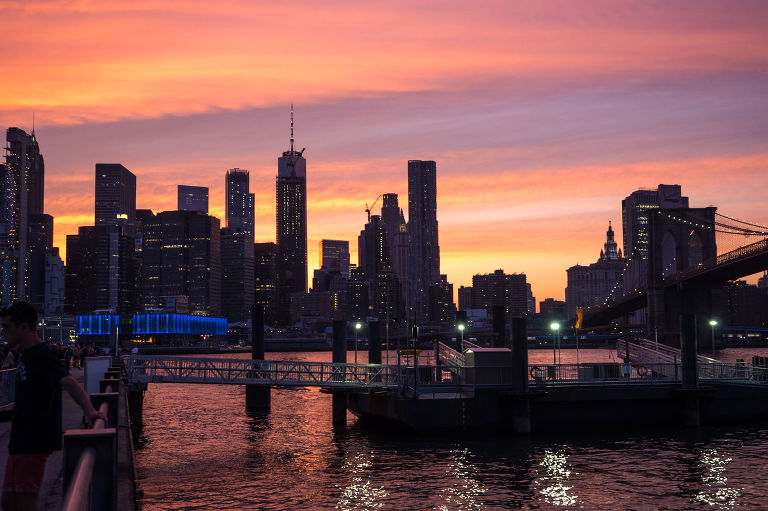 As we arrived at Pier 11, the cotton candy skies had succumbed to dusk. We hopped on subway to TIMES SQUARE for a dose of mayhem and a sugar fix at M&M WORLD. My iPhone died a few hours earlier, but we walked the last mile back to our hotels, making a quick stop at Duane Reed for blister treatment for a day well spent. Hot showers before bed soothed the weary travelers, and we tucked into cool sheets amazed at how our most amazing NYC day transpired.