Last fall, some of my high school classmates gathered in Atlanta for a class reunion. A few of us who didn't make it started saying how much fun it would be to have a small gathering in an awesome place. When my dear friend in Bozeman invited us to visit, we jumped at the chance for a Montana reunion! We booked our flights from DC, Lookout Mountain, Phoenix and Charleston. I ordered a nifty camera bag so I could take proper gear to the Treasure State, but as girls on the move, my iPhone was the technology of choice. Sadly, the resolution and exposure isn't the greatest, but our memories of our Montana reunion most certainly are! Here's a play-by-play of our three amazing days. (Feel free to skip straight to the iPhone photos. All these words are mostly for me to remember details that will slip my mind once the kids are back in school.)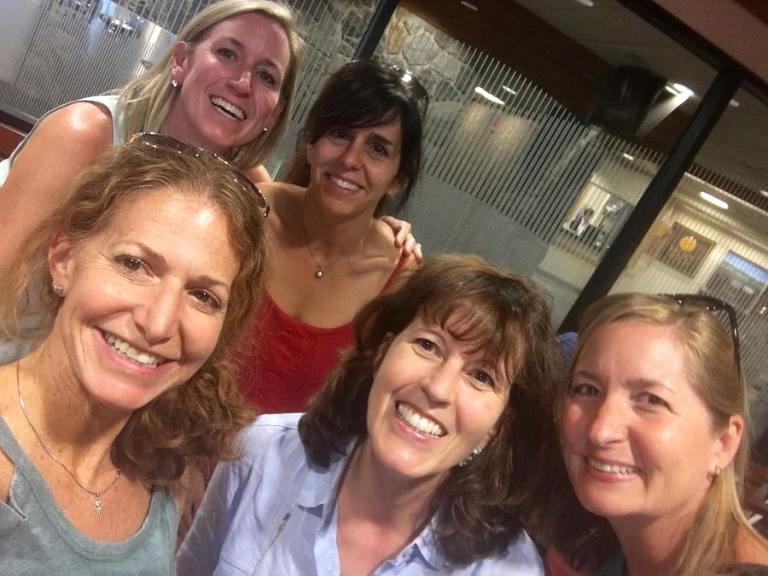 Let's Go! Montana Reunion
The traveling hubby, who used some of his jillion miles to score a ticket for me, chauffeured me during a rainy rush hour to the quiet Charleston airport. I appreciated the renovations, especially the spacious restrooms that provide ample room for a human, some luggage, optional offspring AND clearance for a swinging door. A novel idea!
Flew to Atlanta. Flew to Salt Lake City. (Man, that leg was long, but I enjoyed window-seat yoga and the in-flight entertainment.) Reviewed texts as each of my friends landed in Bozeman before I boarded flight number three. Eleven hours after leaving my house, I made it to Bozeman, where the girls were waiting in the watering hole under the escalator. Yep, that's the one. Adjacent to the vacant baggage claim. Coffee and egg burritos in the AM; margaritas and nachos after lunch.
Hostess Jen drove us across town to her abode and got everyone settled into her house. We met her kids and the dogs and reintroduced ourselves to her hubby (who I'd only met only at her wedding decades prior). The whole lot was surprisingly unfazed by the descent of four loud houseguests for a Montana reunion!
Our hostess/chauffeur/concierge delivered us to dinner on the main drag of downtown Bozeman. Her reservation secured a table by the window at Open Range, a lively eatery which served up tasty cocktails (the one I chose was dill-icious!) and yummy fare, including steaks, seafood and other tasty grub.
After dinner, we strolled along Main Street toward the distillery that makes vodka infused with Montana's prized huckleberries. (A gallon ziploc bag of hand-harvested huckleberries was going for $65 at local grocer!) Since the distillery closed early (town rule, preventing breweries and distilleries from cannibalizing business from restaurants), we popped into Ted's Montana Grill to try their takes on the local spirit. Laughs galore and slumber followed.
Day 1, Montana Reunion
As a wedding photographer, I've photographed cake toppers, signs and tote bags emblazoned with the phrase "Best Day Ever." The first full day of our Montana reunion gave all weddings a run for that title! Since some of the girls had better sleep skills than I did, we opted out of the roadside diner breakfast and ate eggs and bacon at the house while our hostess-with-the-mostess made us sandwiches and stocked a cooler with treats and trail snacks.
As we drove about 30 miles to the Lava Lake trailhead, we soaked up the mountain views around Gallatin Canyon, some of which were obscured by wildfire smoke the day before. Lava Lake is popular day hike, and my sea-level lungs were absolutely feeling the elevation! We hiked a bit more than three shady miles up, gaining 1600 feet in elevation as the trail climbed along Cascade Creek. The views of 47-acre Lava Lake were glorious! We refueled as chipmunks and rock pikas skirted around our scenic rest spot and brave swimmers took a dip nearby.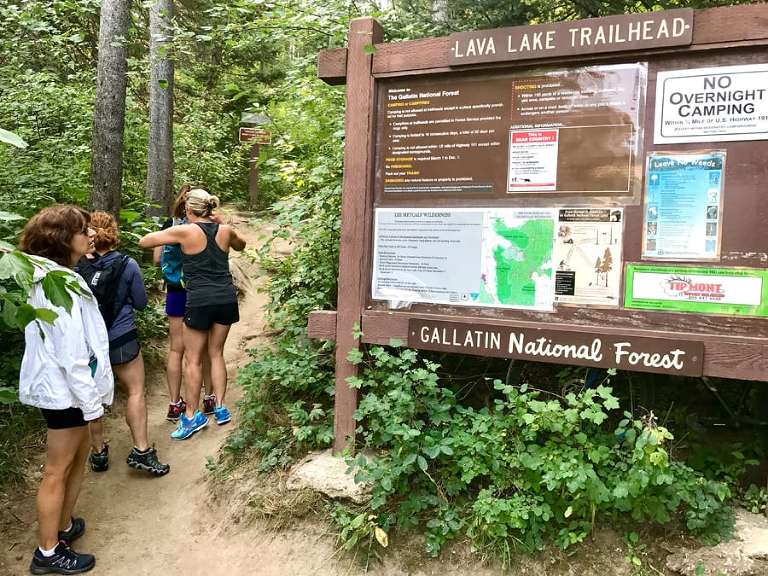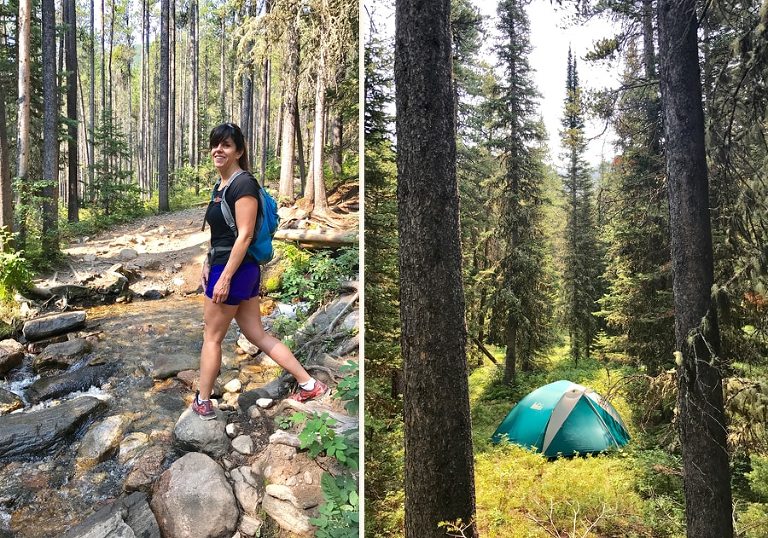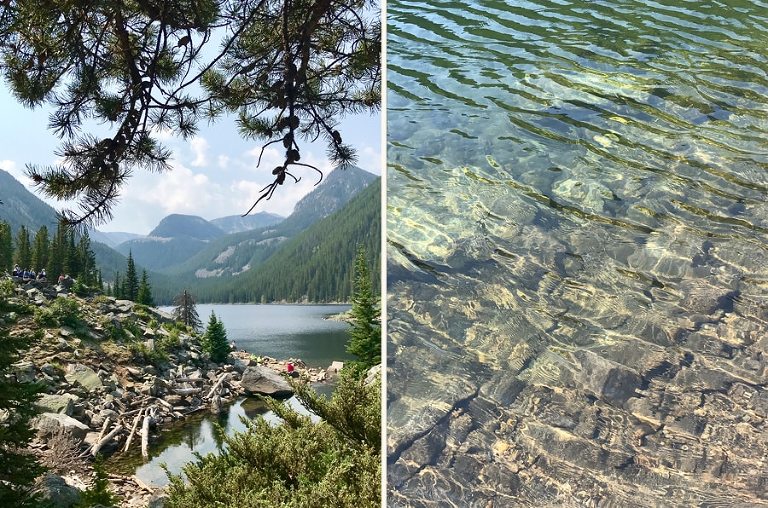 After a speedier descent, we feasted on sandwiches while our chauffeur drove us another 15 miles toward Big Sky, where we checked in with her friend Ed, owner of Canyon Adventures. He and his son maintain a 15-mile trail that gets up to about 10,000 feet, and they rent all-season transportation, including snowmobiles, horses and our transport du jour, Wildcats! One of Jen's local besties met us so we'd each have a partner for the 4-hour round trip up, up and away!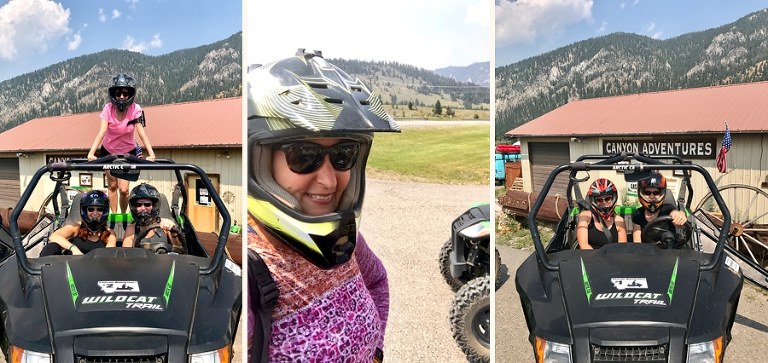 The first couple of miles of trail run alongside the highway and an asphalt bike path, providing views of various ranches and an elementary school before we turned up into the hills. We could not stop laughing during our bumpy ascent as dirt shellacked our teeth and filled every pore that wasn't covered by clothes or helmet! There were wildflowers, Christmas trees and cool breezes at around 9,000 feet. The vistas of Lone Peak and nearby ski resorts were amazing, and our fearless leader broke out Prosecco and juicy prized cherries from the Flathead Valley for our high country treats. (She's the best, right?)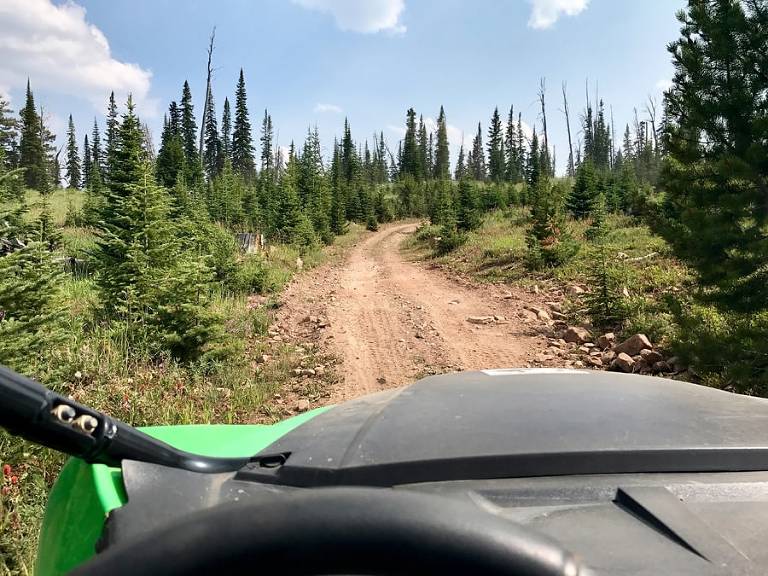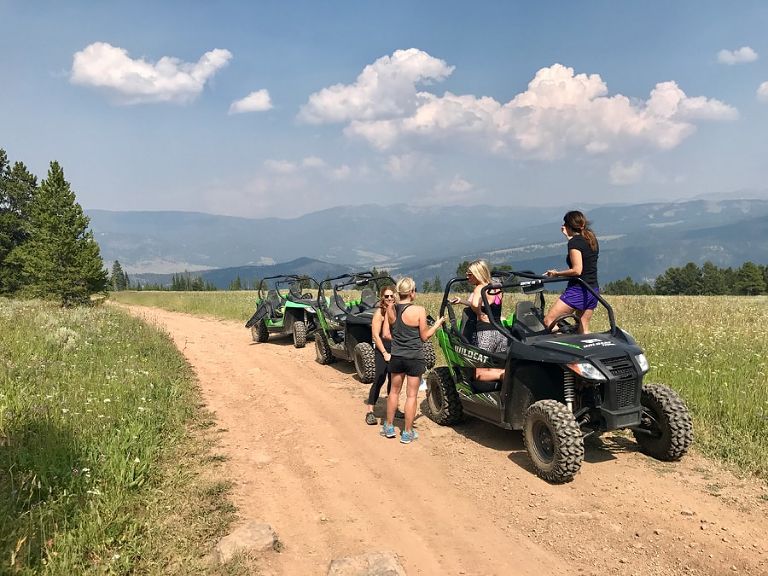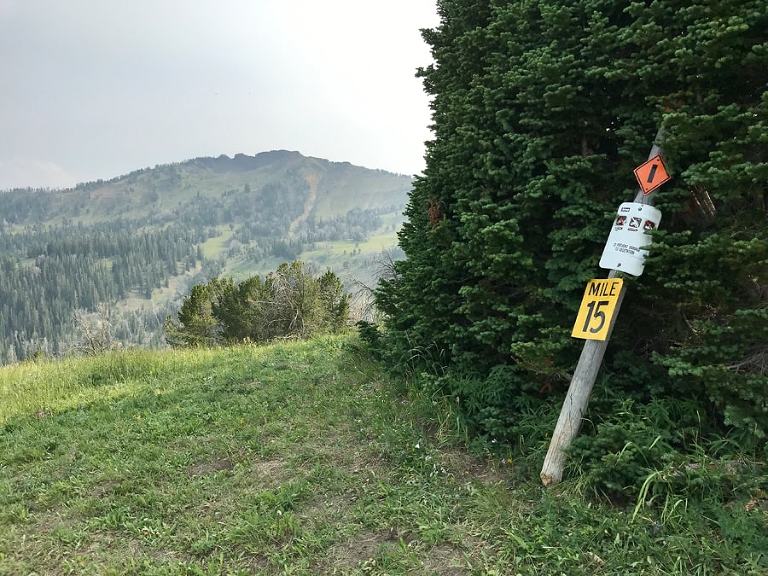 The ride down was faster and less dusty since my ATV-mate, Jennio Andrettijohn, embraced her leadfootedness and we took pole position. Other than a couple of dirt bikers cruising a high ridge and a few trucks on the first parts of trail, we had the wilderness to ourselves! We turned in our wheels and did our best to rinse off at a sink and slap on lip gloss before dinner at the Gallatin Riverhouse Grill.
This place is awesome! The popular BBQ place has picnic tables, fire pits, corn hole, live music and swings instead of barstools, all with a backdrop like a Bob Ross painting. Although we thought we might be famished before our 9pm reservation, the timing was perfect and we enjoyed extended daylight, the musicians and warm fires before and after our dinner. Exhausted and satiated, Hostess Jen drove us an hour to her casa for showers and some quality ZZZs as 50-degree air made for primo open-window snoozing. BEST DAY EVER!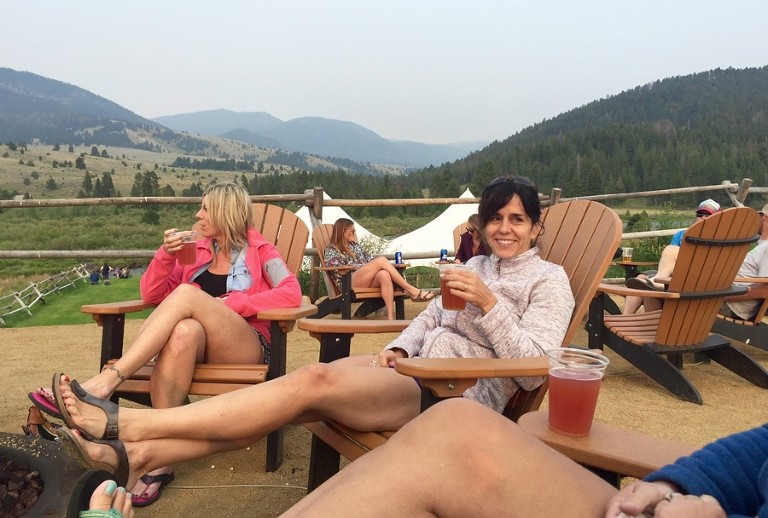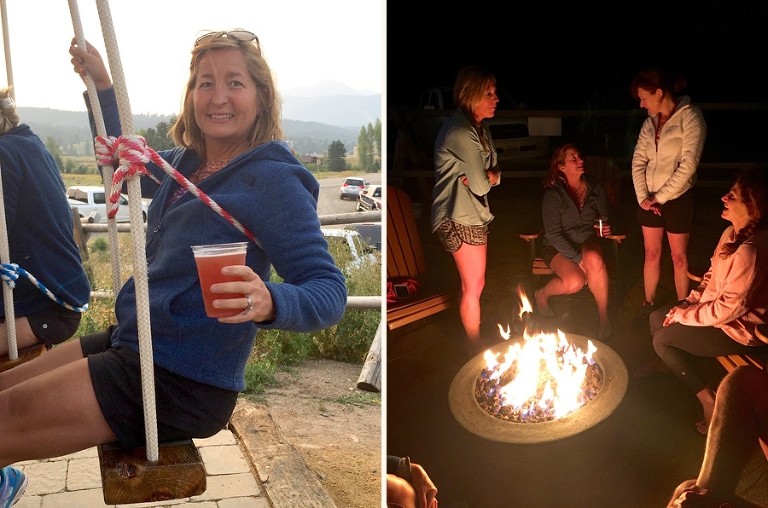 Day 2, Montana Reunion
Rise and shine! We started the day of our Montana reunion with breakfast in town with an alfresco brunch at the Co-op, complete with mountain views. Next, some leisurely shopping along Main Street. Our favorite stores were Heyday and Damselfly, although we skimmed the racks in several other shops.

Then it was time to trade shopping bags for duffels with our inflatable paddle boards. We suited up, and our gracious guide drove us the half-hour to the Hyalite Reservoir. Although the parking lot was full, the lake and shoreline were not crowded. We pumped up the three boards Hostess Jen rented from her employer's stash at Montana State University, and we cruised around on the chilly lake in the warm sun. Bliss! And yes, there were snacks, which her dog Wilson wanted in on, but the humans were very protective.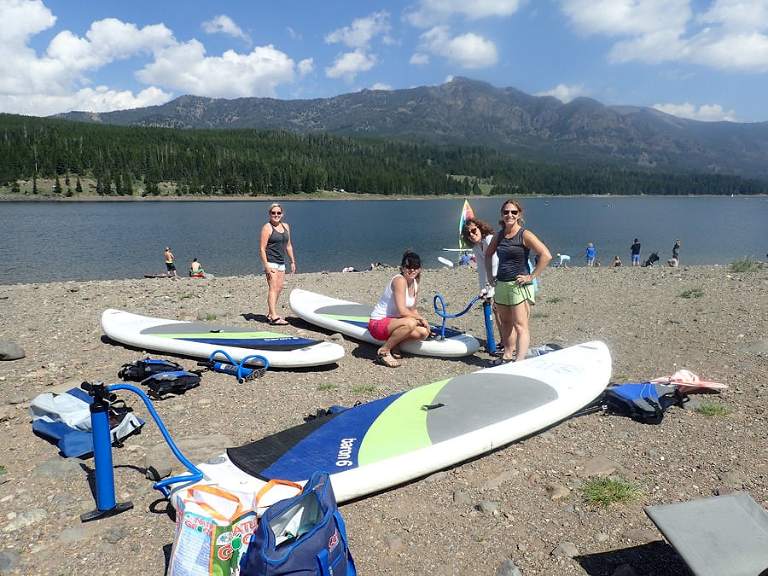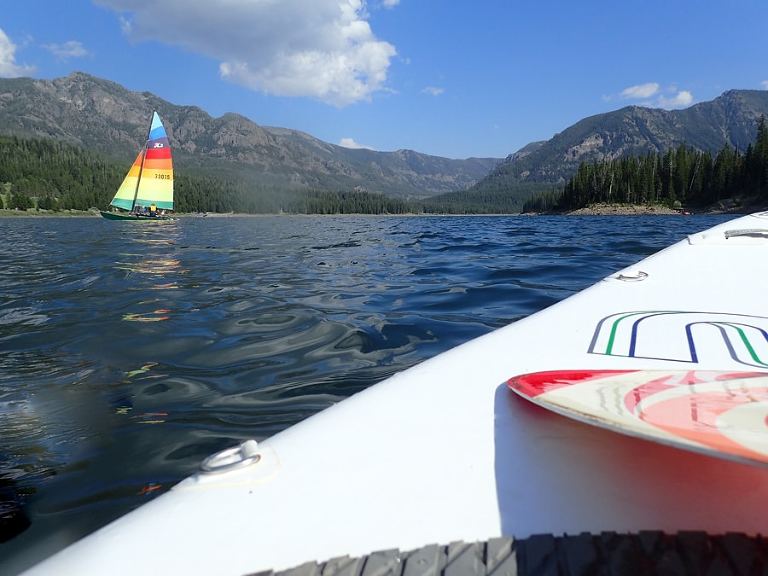 Back to the house, and on this fine day we actually showered before dinner! The hour drive to Pray, Montana followed the Yellowstone River through Paradise Valley as the full moon rose and dusk settled over the Absaroka mountains. We witnessed no roaming buffalo, but we did see antelope playing! Our destination was the historic Chico Hot Springs Resort, which opened in 1900. (If "Dirty Dancing' had been set in the west, Johnny Castle would have had the time of his life here.)
We enjoyed delectable halibut, prime rib and good company in the dining room, and wrapped up with only a few minutes before the hot springs pool closed for the evening. Still, we made a quick change into swimsuits and soaked it up! The desk clerk, relaxed in her plaid flannel, handed us towels and didn't even charge us. So relaxing. Moonlight glistened over the Yellowstone River on our way back to Bozeman. O beautiful for spacious skies.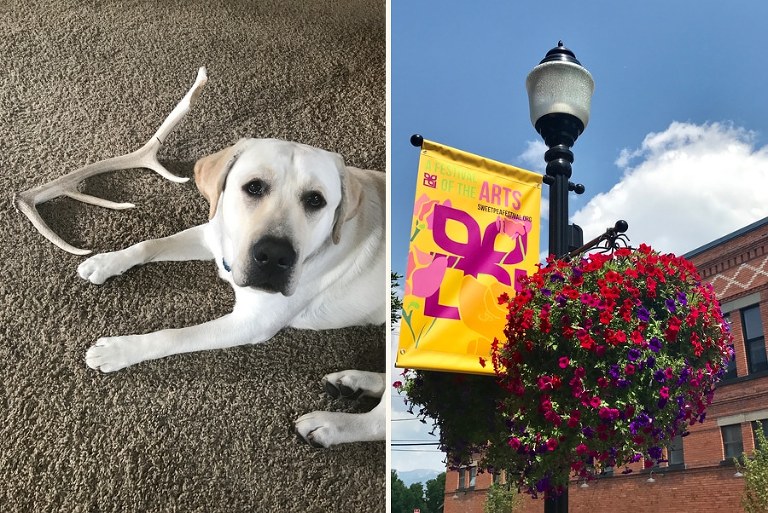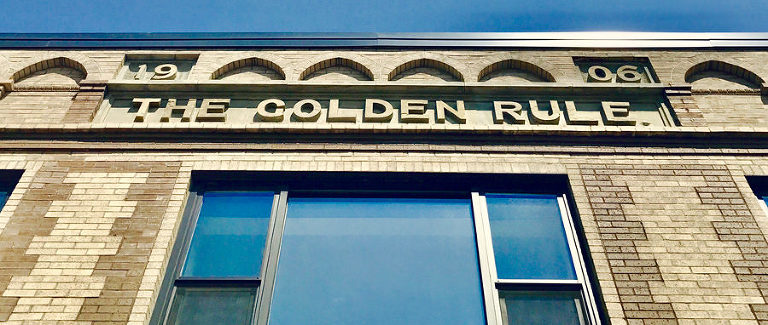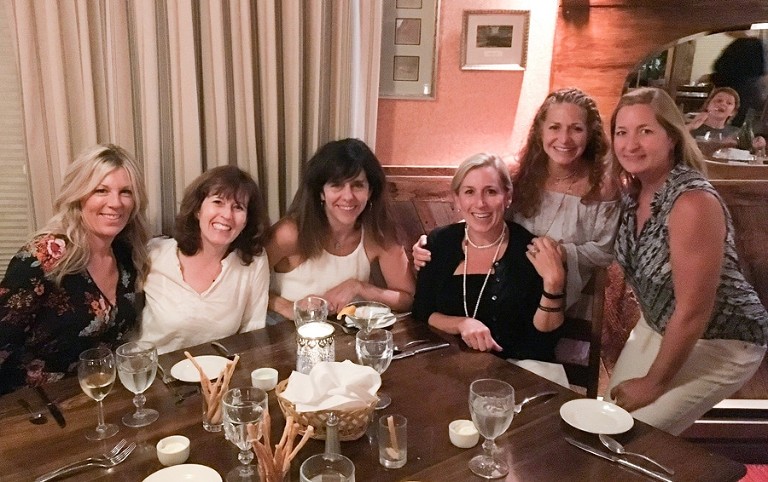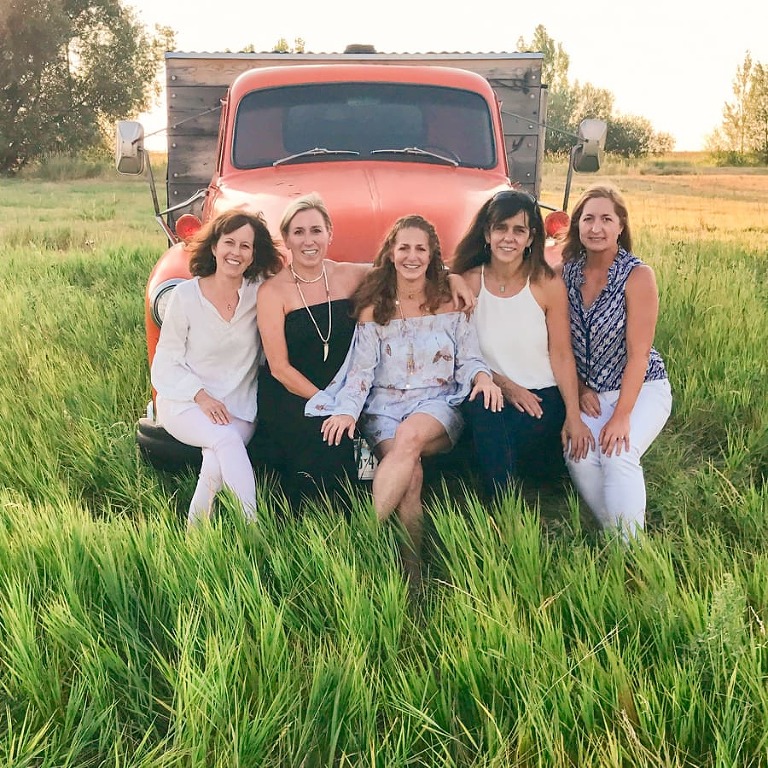 On Monday, our group started to dwindle as one friend flew home to Tennessee early. The rest of us celebrated our DC friend's birthday with another blue-sky hike along the South Cottonwood Trail. We passed horses, butterflies and a lady with her dogs before it was time to drop our Phoenix friend at the airport.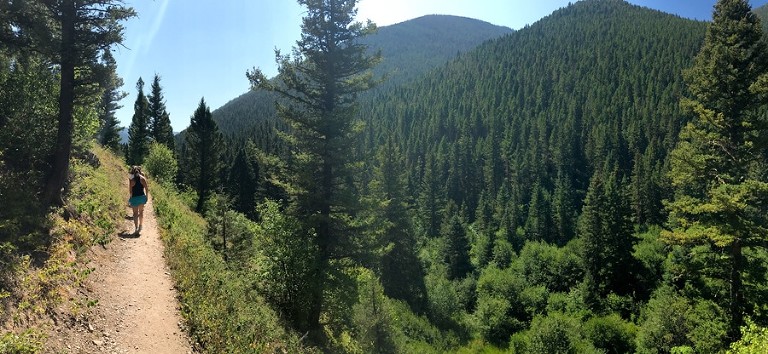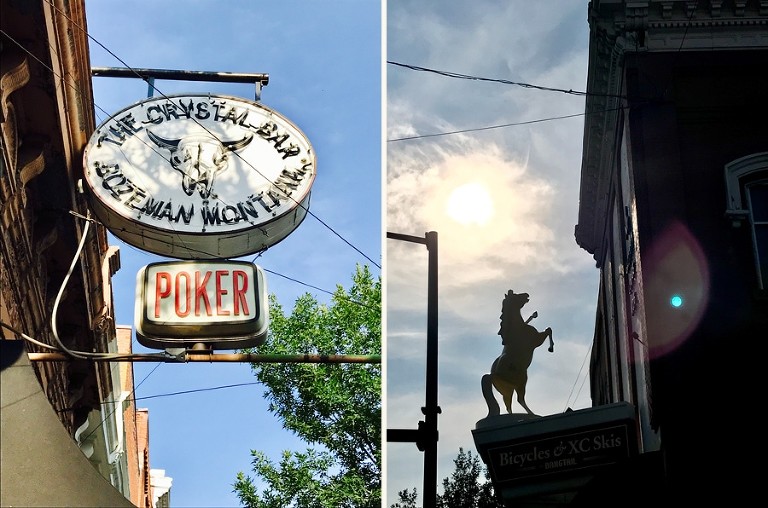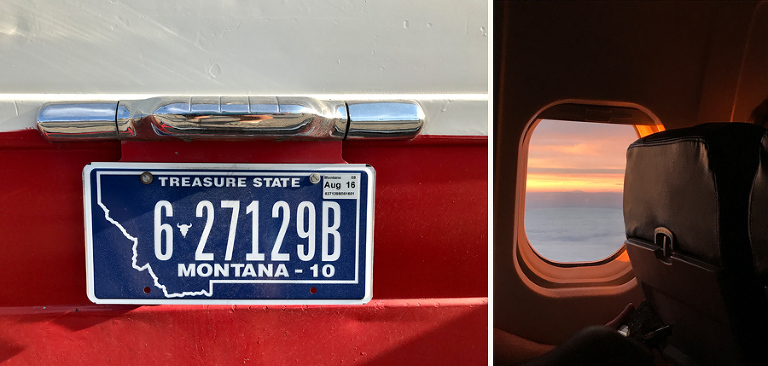 I'm so grateful we made this happen! Thanks to my family for letting me run to the hills and thanks to my friend and her family for putting us up, planning all the fun, driving us all over and showing us your fantastic laid-back home on the range. Next time I'll bring my hubby and kids to Montana. And stay tuned to see which town this crew visits next year!
SaveSaveSaveSave
SaveSave
SaveSave
SaveSave
SaveSave
SaveSave
SaveSave
SaveSave
SaveSave
SaveSave
SaveSave
SaveSave
SaveSave
SaveSave
SaveSave